Grassroot Diplomat Initiative Award
Previous Winners
GILLINGHAM AND RAINHAM, CONSERVATIVE
POLICY DRIVER WINNER: COUNTERING EXTREMISM PROPAGANDA
2016
Since February 2015, Mr Chishti ran a highly successful high profile campaign to convince the Government and the media to refer to the so called Islamic State as "Daesh". The use of the titles Islamic State, ISIL and ISIS gives legitimacy to a terrorist organisation that is neither Islamic nor a state, distorting the peaceful religion of Islam for its own violent and extremist ends. Backed by 120 MPs, Mr Chishti submitted a letter to the Prime Minister and to the BBC calling for this change. In December 2015, after several months of campaigning, the Prime Minister publicly urged the government and media to fully adopt Daesh into their lexicon to help reduce public fear and paranoia against Muslims and the religion itself on a global scale.
JAMAICAN HIGH COMMISSION
POLICY DRIVER WINNER: AIR PASSENGER DUTY
2016
The controversial travel tax was introduced by Britain in 1994 as measure to reduce carbon dioxide emissions. The tax made flying into Jamaica and the Caribbean more expensive with substantial taxes hurting airlines, business users and consumers. Ms Ndombet-Assamba worked closely with other Caribbean countries and led the effort to lobby the government to discuss how APD affected Caribbean countries. Her lobbying efforts led to the Chancellor of the Exchequer in 2014, announcing that all long haul flights will carry the same lower band B tax rate as the United States. The new measures took effect in April 2015 with Jamaica seeing 31.5% increase in tourism over the past two years.
WASHINGTON AND SUNDERLAND WEST, LABOUR
SOCIAL DRIVER WINNER: HOLIDAY HUNGER
2016
Ms Hodgson successfully secured commitment from the Prime Minister in protecting free school meals for children. As Chair of APPG for School Food, she set up a "Holiday Hunger Task Group" chaired by Lindsay Graham to tackle the impact of school holidays on struggling and starving families. As a result of the Task Force, schools across the UK are opened during holiday offering sporting activities and breakfast clubs with the assistance of parents volunteering their time. The Task Force also managed to attract Greggs and Kelloggs to provide food and financial support in keeping Breakfast Clubs open during the holiday seasons.
EMBASSY OF POLAND
SOCIAL DRIVER WINNER: INTERFAITH AND SPORTS DIPLOMACY
2016
The Embassy has been focusing its sports diplomacy on volleyball and football, providing financial sponsorship and marketing support to Polish teams to achieving success in leagues and tournaments. Also, for many years, Mr Sobków has been involved in interfaith dialogue and hosted a myriad of events for Christians, Jews, and Muslims from Poland and the UK. Whilst being a Catholic, he took Islamic studies at university to gain a better understanding of the religion, and is working on interfaith projects to break stereotypes of Muslim and Jewish communities, visiting churches, community centres and synagogues to spread the message of tolerance while fighting xenophobia and stereotypes.
HALIFAX, LABOUR
BUSINESS DRIVER WINNER: FAIR TRADE HALIFAX
2016
Coming from a background in export trade, Ms Lynch is passionate in wanting to bring issues of international development to her local constituency. Fairtrade products guarantee better prices, decent working conditions and fair terms of trade for farmers and workers in the developing world. Fairtrade Halifax is one of the latest addition to Fairtrade Yorkshire's rapidly growing network of local Fairtrade groups. Brought together by Ms Lynch, the group is looking to attract more members and held its first public launch event in March 2016 to coincide with Fairtrade Fortnight where more than 100 people came to show their support. Palestinian Fairtrade farmers also attended the event to talk about how Fairtrade benefits them and their communities.
TURKISH CHAMBER OF COMMERCE
BUSINESS DRIVER WINNER: CHAMBER OF COMMERCE LEADERSHIP
2016
The first female Chairman of the Turkish British Chamber of Commerce and Industry, Ms Edhem helped TBCCI become a leading platform and driving force for business expansion. During her tenure, new global institutions became members of TBCCI, helping to drive business between the two countries. She has since been approached by countries, including Hungary, to help raise their Chambers to functioning levels. She also founded "The Young Entrepreneurs and Professionals Platform" in September 2015, providing platforms for young entrepreneurs, professionals and City Financiers to learn from real life business experience.
ROMSEY AND SOUTHAMPTON NORTH, CONSERVATIVE
HONOUREE
2016
Caroline Nokes MP is a leading figure in the fight against unrealistic body standards for women and for body positivity in the media and fashion industry. She publicly shamed the modelling industry on the issue of super-skinny models and is acting to offer legislation options for the government. She is also working with the YMCA, Dove, and Allwalks Beyond the Catwalk to organise the 'Be Real Campaign', aiming to create a social movement for change and body confidence for young people, particularly girls aged 14-18.
HONOUREE
2016
The Dual Year of Mexico was a multisector initiative aimed at expanding relations between governments and societies of Mexico and the UK, battling intolerance through cultural appreciation. In 2015, over 140 activities were organised throughout the UK which resulted in 1.3 million UK citizens taking part or hearing about the Dual Year through various media sources. The Dual Year accelerated growth and commerce, doubling bilateral trade to £4.2 billion, as well as surpassing the half a million mark for British visitors travelling to discover Mexico. The Embassy also managed to gain a 400% increase of UK scholarships for Mexican students as part of its educational outreach.
HOUSE OF LORDS PEER
HONOUREE
2016
Lord Looma championed the cause of widows since he first established the Loomba Foundation in 1997. He pledged to educate at least 100 children of poor widows in each of India's 19 states within a decade and achieved his target within 7 years. In 2005, Lord Loomba successfully achieved the unanimous adoption of International Widows Day by the United Nations General Assembly after five years of lobbying, making 23rd June of each year a day to remember the plight of international widowers.
HONOUREE
2016
The embassy has been a long supporter of the League of Romanian Students Abroad, which was established by students in Romania to work alongside the embassy and universities in the UK and has supported over 9,000 nationals. In October 2015, the embassy attended a Romanian ball to raise money for education organised by "Teach for Romanian" in collaboration with LSRS and GRASP. The embassy has also been a promoter of London Education and Research Network, which aims to help create a framework for diplomatic cooperation in the field of education, to strengthen the dialogue with institutions, organisations and British trainers in education and research areas.
REDDITCH COUNTY, CONSERVATIVE
HONOUREE
2016
Every three months, Ms Lumley runs the Business Leaders Group where top speakers are invited to offer advice to entrepreneurs on the trade. She regularly visits local businesses to understand issues that they may be experiencing without adding pressure for local owners to take time away from their work. She also set up 'Young Enterprise' in schools that teaches children the skills of entrepreneurism. During her time as MP, unemployment in Redditch fell down by 64% which is Ms Lumley's biggest achievements since being elected.
HE DR FEDERICO CUELLO CAMILO
DOMINICAN REPUBLIC EMBASSY
HONOUREE
2016
Dr Cuello brings yearly Dominican business delegations from all sectors, including agriculture, successfully signing numerous deals. Through his hard work and lobbying efforts, he helped his country to consolidate its position as the top exporter of organic and fair trade bananas, the top exporter of bananas from the Africa, Caribbean and Pacific group of countries, the top exporter of fair trade and organic cacao, the second exporter of avocados and the third largest exporter of exotic vegetables to the UK. As a result, he has seen exports grow by over 24% since he arrived in London back in 2011 and by 2015 the UK had become the top European destination for Dominican exports.
WALTHAM FOREST COUNCIL, LABOUR
POLICY DRIVER WINNER: POVERTY ACTION
2015
Waltham Forest is the sixth most deprived borough in London where privately rented houses are occupied by at least 10 people who have 2-3 jobs. Accessing food banks is the only way to survive but with £64million cut from the Council budget, Councillor Karen Bellamy had to create practical strategies to eradicating the causes of poverty. One of her many projects include the establishment of food hubs where residents could take advantage of quality fresh good distributed through national charity FoodShare. A similar initiative was rolled out to children's centres to provide struggling parents with access to donated baby clothes, toys, and accessories at no cost to them and giving children access to learning via the Dolly Parton Imagination Library.
EMBASSY OF KUWAIT
POLICY DRIVER WINNER: COMBATING RELIGIOUS EXTREMISM
2015
The longest serving ambassador in London, His Excellency Khaled Al-Duwaisan has lived a life of extremes as his country was invaded by Iraq in the 90s. Mr Al-Duwaisan notes that criminals are hijacking the Islamic religion, making a reference to ISIS who are tarnishing the peaceful image and practices of Islam. Changing the method of education is an important tool to doing damage control of religious extremism. The Kuwaiti Ambassador has been working closely with educational preachers, bringing politicians, scholars, and clergy's to talk about the real Islam and pushing positive images of religious tolerance via educational engagements across the board.
HOUSE OF LORDS PEER
SOCIAL DRIVER WINNER: FILM CLUB AND IRIGHTS
2015
Baroness Kidron founded educational charity FilmClub, now known as IntoFilm, in 2006 to provide children with unthreatening life experiences through films. The after-school club was rolled out to 25 state primary and secondary schools which quickly expanded into 1,000 schools. Pupils between the ages of 5-16 were encouraged to review films like Hotel Rwanda, Schindler's List and Trading Places to expand their knowledge about the world. She is also spearheading the iRights campaign, a 5-point framework that enables children and young people access to the internet "creatively, knowledgeably and fearlessly". The iRights Framework already has over 100 signatories including Mozilla, UNICEF, The Sorrell Foundation, and The Duke of Edinburgh's Award, and is currently being assessed against existing legislation for digital protection.
UK REPRESENTATIVE FOR PALESTINE
SOCIAL DRIVER WINNER: PALESTINIAN AWARENESS
2015
Since becoming the Palestinian Authority's diplomatic representative in late 2005, Manuel Hassassian has become known as being the voice of Palestine and is considered the top diplomat of Palestine out of 90 representatives worldwide. Over the years, Mr Hassassian has been featured on 400 major TV interviews, spoke to all the think tanks in Washington DC, visited and spoke at every university in the United Kingdom, and actively engages with Palestinian solidarity campaigns in an effort to raise Palestine to the political agenda. He is visible in grassroots rallies and demonstrations and speaks candidly to British parliamentarians when devising policies and strategies that directly affect his country.
MID NORFOLK, CONSERVATIVE
BUSINESS DRIVER WINNER: THE NORFOLK WAY
2015
Founded in 2007, George Freeman MP created The Norfolk Way to inspire entrepreneurial activity and raise aspirations in an area often dismissed as a 'rural backwater'. The Norfolk Way exists to encourage rural entrepreneurship by creating a culture of innovation through schools, local businesses, entrepreneurs and civic leaders. The project awards business bursaries of up to £500 to school leavers not entering universities and offers young people practical work experience in a business environment to inspire them to become an entrepreneur. The alumni network Norfolk Way Fellow also encourages a spirit of collaboration and mentorship to former winners who have since taken up work.
EMBASSY OF TUNISIA
BUSINESS DRIVER WINNER: POST REVOLUTION OUTREACH
2015
His Excellency Nabil Ammar came into office in London at a time when Tunisia was at its most fragile. After the uprising in 2011, the Ambassador was left to manage a difficult transition period and establish confidence with Tunisians living in the UK. While liberty, freedom of expression, and the installation of a new democracy have been founded by the Tunisian people, the current economy remains unstable due to internal and external forces. Despite the challenges, the revolution has brought about positive change that could see the country grow into a strong economy and trading partner in the coming years. Mr Ammar is seeing through the transition with optimism and is opening the doors of the embassy to both civil society and businesses.
HOUSE OF LORDS PEER
HONOUREE
2015
A licensed doctor, Baroness Finlay has vigorously championed improvements to the care of dying patients, saying the duty of care is to redouble efforts to improve a dying patient's situation and not to participate in their suicide. She has also been active in raising the debate for Britain to consider moving to the 'opt out' system for organ donation. This will help to counter shortage of donors particularly from BAME communities who are at high-risk of kidney failure due to diabetes. Wales has now legislated for the opt-out system, which is currently being implemented.
UK REPRESENTATIVE OF GIBRALTAR
HONOUREE
2015
Albert Poggio has spent over twenty years strengthening political and business ties for Gibraltarians and British citizens alike. Mr Poggio came to post in 1998, putting forward views of Gibraltar when the country had no representatives present in Parliament. Coming from a commercial business background, Mr Poggio helped to initiate several projects including the introduction to chartered flights coming in and out of Gibraltar to open borders and provide businesses access to the country.
LAMBETH COUNCIL, LABOUR
HONOUREE
2015
A lecturer by profession, Cllr Aminu has helped to encourage parents to join governing bodies to gain skills and have a direct impact to their children's educational needs at a local level. He is also committed to raising awareness for his chosen charities including the Girl Guide Network Worldwide which supports gender rights, empowerment and education, reaching out to African girls who are economically deprived and subject to physical and cultural risks. He has so far raised over £4,000 for the charity and is committed to surpassing this goal by the end of his Mayoral tenure.
EMBASSY OF BAHRAIN
HONOUREE
2015
Her Excellency Ms Samaan is keen to help Bahrain move forward and has made it her priority to reconcile the people and bring them together. She became the first female Gulf Cooperation Council Ambassador to the UK and when Bahrain became independent, her major role was to improve the health situation in her country, training local people to become doctors. In 2002 Ms Samaan became one of six women appointed to the Shura Council and later made history in the Arab world in 2005 by becoming the first woman to chair a session of Parliament in the region. Covered by the global media, the incident was viewed as a sign of gradual progress towards a more open democracy in Bahrain.
BIRKENHEAD, LABOUR
HONOUREE
2015
Set up in 2007, Mr Field founded the organisation with businessman Johan Eliasch as a reaction to the failure of any progress made to halting deforestation. The uniqueness of Cool Earth is that the charity works alongside indigenous villages to halt rainforest destruction as a bottom-up solution to an aging problem. Rather than putting up fences around protective areas, the charity puts indigenous people who have lived in the forest for countless generations back in control by giving them the resources they need to keep their forest intact. Cool Earth is now said to be working alongside 113 rainforest villages throughout the world with partner villages protecting over 500,000 acres of forest that lie directly in the path of chainsaws and bulldozers.
ROMANIA, BRISTOL
HONOUREE
2015
Dr Constantinescu successfully recruited a team of 25 volunteers of all ages and diverse ethnicity to organise Bristol's first ever Voting Station for the Romanian Community. Approximately 4,000 Romanians live in South West England and the facilitation of this important occasion helped to establish strong relations between different communities in the area. Dr Constantinescu also initiated charity project "From Bristol with Love" in March 2014 with the simple aim of delivering aid to disadvantaged communities in Romania. In less than 8 months, he and his team of volunteers delivered over 88 boxes of clothes, toys, and educational equipment to Romanian orphanages in partnership with coach travel companies.
BARKING AND DAGENHAM, LABOUR
POLICY DRIVER WINNER: EQUALITY AND DIVERSITY
2014
Councillor Sanchia Alasia of Barking and Dagenham was chosen for her work on equalities and diversity, successfully winning her position in May 2010 by unseating BNP member Robert Bailey to become the youngest woman on the council. Now, as part of the Labour Black Women's network, Cllr Alasia mentors women as well as pointing them to shadowing opportunities, so that they can learn more about how to get involved in local politics and public life.
EMBASSY OF AFGHANISTAN
POLICY DRIVER WINNER: PROTECTING WOMEN'S RIGHTS
2014
A dedicated campaigner Afghan Ambassador His Excellency Dr Mohammad Daud Yaar has made it his mission to protecting women's rights in Afghanistan as the most important issue to the development of his country. Dr Yaar has managed to create an environment where men are encouraged to talk about women's rights without the attachment of traditional stigmas within a strongly patriarchal society and thanks his wife Sadia Yaar for providing him with the strength to do so on an official capacity.
HOUSE OF LORDS PEER
SOCIAL DRIVER WINNER: STEPHEN LAWRENCE CHARITABLE TRUST
2014
A charity born out of a personal tragedy, Baroness Lawrence founded the Stephen Lawrence Charitable Trust following the murder of her son Stephen in 1993. The charity promotes a positive community legacy in her son's name and creates an environment of social inclusion and empowerment for youths in Britain. Her charity offers free training workshops to local communities in Lewisham, Greenwich and Southwark in providing young people with tangible skills and access to professions including music, media and law.
SEYCHELLES HIGH COMMISSION
SOCIAL DRIVER WINNER: MPOWER SEYCHELLES
2014
On the diplomatic side, the High Commissioner of Seychelles Her Excellency Marie-Pierre Lloyd was chosen for establishing MPower Seychelles, an NGO aimed at empowering vulnerable islanders including unemployed, addicts, ex-convicts and teenage mothers. The High Commissioner firmly believes that people should be at the centre of policy, programme or project, focusing on human dignity and well-being. The High Commissioner was represented by Minister Hariosa Accouche at the ceremony in her absence.
NORWICH NORTH, CONSERVATIVE
BUSINESS DRIVER WINNER: NORWICH FOR JOBS CAMPAIGN
2014
Chloe Smith MP of Norwich North conceived and designed the Norwich for Jobs campaign, bringing together a team from local firms to the Chambers of Commerce and charities to create jobs for young people. Since its launch in January 2013, Norwich for Jobs has directly brought about over 400 jobs and apprenticeships for Norwich young people by providing businesses with the confidence to open jobs and breaking the stereotype of the "lazy" youth on Jobseeker's Allowance.
SIERRA LEONE HIGH COMMISSION
BUSINESS DRIVER WINNER: POSITIVE BUSINES ENFORCEMENT
2014
His Excellency Edward Turay of Sierra Leone has done remarkable work in galvanising diaspora communities across Europe, bringing better visibility to his country and people. With extremely stretched resources, the High Commissioner also heads diplomatic missions in Denmark, Norway, Sweden, Spain, Portugal, Cyprus and Ireland which he frequents to every two months. In the UK, the embassy manages a 100,000 people diaspora with 25,000 Sierra Leone civilians living in the London boroughs of Lambeth and Southwark alone.
BRADFORD EAST, LIBERAL DEMOCRAT
HONOUREE
2014
With nearly 15,000 people relying on Council-commissioned social care services, Mr Ward created the Bradford Cares campaign to fight against proposed reforms on who receives paid care and support. After careful analysis, Mr Ward concluded that reforms on the eligibility criteria will be more costly in the long run, and will have devastating health and well-being implications for over 2,000 vulnerable people in the area. Over 1,000 signatures were collected for his government petition.
EMBASSY OF ESTONIA
HONOUREE
2014
Estonia regained its independence in 1919, and since then, Estonia has developed very fast, despite having an aging society similar to many European countries and housing 1.3 million people. The global phenomenon of Skype is the country's most famous example of innovation, but Estonia's cutting-edge use of technology extends to other areas, such as e-government, e-banking and e-voting. Ms Wiren notes that the spread of technical know-how and innovative systems is the embassy's most important priority in the UK, and has been keen to share the success of this digital society to other partners.
CAMDEN COUNCIL, LABOUR
HONOUREE
2014
As the Mayor of Camden, Cllr Quadir has tirelessly campaigned in raising awareness and funds for charity Action of Hearing Loss. In April 2012, Cllr Quadir descended from the top of the Town Hall via an 85ft long rappel rope, in order to raise money for the 'Hear to Help' service of the charity—a service that offers individuals the latest hearing aid gadgets in a shop-like environment. The Councillor smashed through his £20,000 target, and obtained a cheque of £27,000, which went towards vital hearing services in Camden.
YOUNG DIPLOMATS IN LONDON ASSOCIATION
HONOUREE
2014
Formed in 2002, Young Diplomats in London is a voluntary organisation committed to providing a forum for young diplomats based in London, who often have a slim chance of meeting and working together in their official capacity. With over 2,000 members, YDL brings together country-to-country collaborations in a casual setting, and is backed by strong corporate partners. Every country and region is represented by diplomats who engage in this group and, together, the organisation has raised more than £35,000 for various charities.
EASTBOURNE AND WILLINGDON, LIBERAL DEMOCRAT
HONOUREE
2014

In partnership with the National Apprenticeships Service, Stephen Lloyd launched the "100 apprenticeships in 100 days" campaign, with the aim of getting 100 apprenticeships for trainees living in and around Eastbourne, within 100 days. Its success, 181 apprentices in the 100 days, has led to Eastbourne recruiting 3,000 apprentices since the General Election, lowering youth unemployment down by 14%.
EMBASSY OF INDONESIA
HONOUREE
2014
His Excellency Hamzah Thayeb is a great believer in track-two diplomacy, insisting that ordinary citizens are better and more effective ambassadors for one's country. For this reason, Mr Thayeb has had a close working relationship with Indonesian student diaspora groups in all of his diplomatic postings and is an active participant of their student societies. On top of his other duties, Mr Thayeb attends general elections and working groups to prepare yearly programmes on their activities, and even attends student graduations in place of absent parents.
SOUTH SWINDON, CONSERVATIVE
POLICY DRIVER WINNER: SPECIAL NEEDS EDUCATION
2013
Robert Buckland MP has demonstrated an outstanding commitment to children with special educational needs throughout his parliamentary career. Mr Buckland campaigns and advocates tirelessly for children with SEN including those with autism both locally and nationally. The National Autistic Society have called Mr Buckland "a highly devoted and effective advocate for children and adults with autism, ensuring their interests are consistently represented in Parliament and taking their concerns to the heart of Government."
HE MAURICIO RODRIGUEZ MUNERA
EMBASSY OF COLOMBIA
POLICY DRIVER WINNER: EVALUATING INTERNATIONAL DRUG TRADE
2013
Colombian Ambassador His Excellency Mauricio Rodriguez Munera a vocal participant on tackling the war on drugs. The Ambassador has been a close associate in evaluating new alternatives to combat the production and consumption of drugs in helping the US with the war on drugs. Mr Munera feels very strongly on the prohibition of drugs and has helped define the grey areas in what was previously seen as black and white case on prohibition versus legalisation of drugs. The Ambassador was represented by Juan Manuel Uribe.
HOUSE OF LORDS PEER
SOCIAL DRIVER WINNER: INTEGRATED EDUCATION IN NORTHERN IRELAND
2013
The first woman from Northern Ireland awarded for peerage, Baroness Blood has campaigned tirelessly for the social cause of integrated education in Northern Ireland for the last 12 years. Baroness Blood has been at the helm of a highly successful campaign, helping the charity to raise over £15 million by using her powers of persuasion, networks and inspirational attitude here and abroad. With her help, integrated schools now number 62 and the pupil numbers are over 22,000. With such demand, the 62 schools that do have integrated education have to turn away 15,000 children per year, giving her cause to build more schools.
EMBASSY OF HONDURAS
SOCIAL DRIVER WINNER: SUPPORTING STREET CHILDREN
2013
His Excellency Ivan Romero-Martinez was nominated for his support for children's welfare in association with many NGOs in the UK helping Honduras. The Ambassador physically lent a hand loading trucks with donated goods for Honduran street children with Casa Alianza and continues to work actively with other similar causes. In his 37-year career, Mr Romero-Martinez has been a fighter for Human Rights and used the platform of Honduras's Presidency of the UN General Assembly to raise issues such as child soldiers.
OLDHAM EAST AND SADDLEWORTH, LABOUR
BUSINESS DRIVER WINNER: PAY ON TIME CAMPAIGN
2013
Debbie Abrahams MP has been the forefront of a campaign to improve late payments affecting small businesses. Late payments can break a small business and many business owners wait for months until they are paid for their work. Mrs Abrahams not only signed up to be a Champion of the Federation of Small Businesses Real-Life Entrepreneurs Campaign but she has been at the forefront of a campaign to improve the speed with which small businesses are paid by their customers.
HE DR SURESH CHANDRA CHALISE
EMBASSY OF NEPAL
BUSINESS DRIVER WINNER: NEPAL INTEGRATION
2013
His Excellency Dr Suresh Chandra Chalise was nominated for launching a programme for supporting small and medium-sized enterprises aimed at increasing business and investment opportunities in Nepal. Nepal is a developing country and people coming into the UK have different social upbringing that constrains their integration into Britain, affecting their family livelihood and knowledge of the country. Dr Chalise has taken note of this issue coming from his constituents and has actively been working with local British businesses and political authorities to providing better access and understanding to new Gurkha residents.
WEST BROMWICH, LABOUR
HONOUREE
2013
Tom Watson MP played a significant role in the News International phone hacking scandal by helping to bring the series of events at the News of the World newspaper into the open. He questioned Rupert and James Murdoch, along with former News of the World editor Rebekah Brooks, in a Committee session on July 2011 and provided outstanding contribution towards uncovering journalists hacking into civilian phones as a source of information for publication, including the death of 13-year-old Milly Dowler.
GRENADA HIGH COMMISSION
HONOUREE
2013
High Commissioner Ruth Elizabeth Rouse was nominated for her work on raising women's issues within the diplomatic service. As the founder of the Women in Diplomatic Service, Ms Rouse has been active in arranging groups of female diplomats in London to discuss how they could work together more effectively. WDS has taken their message across international borders, generating media coverage and helping other female diplomats form similar groups. The group has also developed scholarships that brings young female diplomats to London to encourage more women to go into diplomacy.
NORTH ISLINGTON, LABOUR
HONOUREE
2013
Jeremy Corbyn MP has been supporting number of non-government organisations and civil causes for many years and goes out of his way to attend and speak at NGO events across the country. Mr Corbyn has been an avid campaigner during his political and non-political career, in a variety of international and domestic topic areas including human rights, anti-terrorism laws and justice, pension provision, racism, and low pay.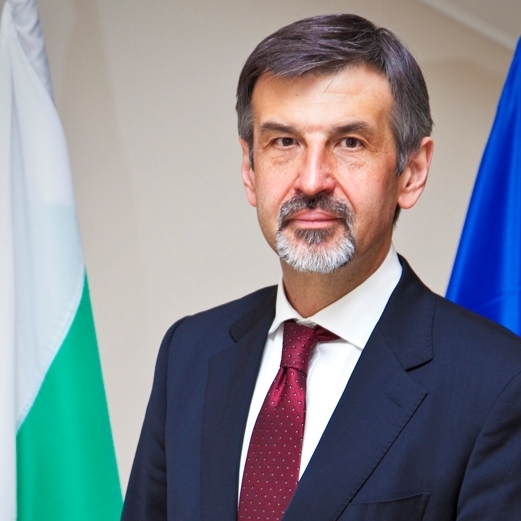 HONOUREE
2013
The Bulgarian Embassy in London was nominated for its contributions to the Bulgarian School based at the embassy. Throughout the years the embassy relation with the school has been very strong, relying heavily on the support of the embassy now and in the future. For 25 years the school has served the Bulgarian people living in London. The mission of the school is to spread knowledge of the Bulgarian language, literature and history among the Bulgarian pupils and students.
BLACKHEATH COUNCIL
HONOUREE
2013
Councillor Chris Maines has made an outstanding contribution supporting local businesses in the Blackheath area not only through the London Riots but also throughout the London 2012 Olympic Games. The Councillor was quick to notice how far removed the Olympics was in engaging local businesses in South East London and took it upon himself to organise in routes for local businesses to work at the London 2012 Games.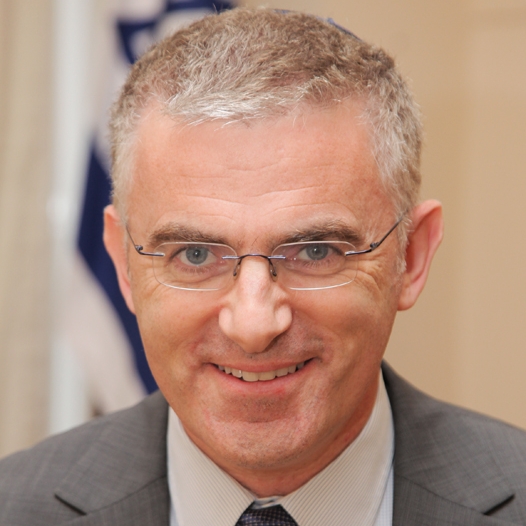 EMBASSY OF ISRAEL
HONOUREE
2013
His Excellency Daniel Taub was nominated for supporting young start-ups and entrepreneurs. Mr Taub is incredibly keen on working with young entrepreneurs not only in Israel and the UK, but internationally. The Ambassador has created avenues for such entrepreneurs to pitch to investors and companies for funds and potential contracts. In the last 2 months, the embassy has opened up investments worth up to £15 million for start-ups and continues to make it a priority to take delegations of mixed nationalities working on business projects.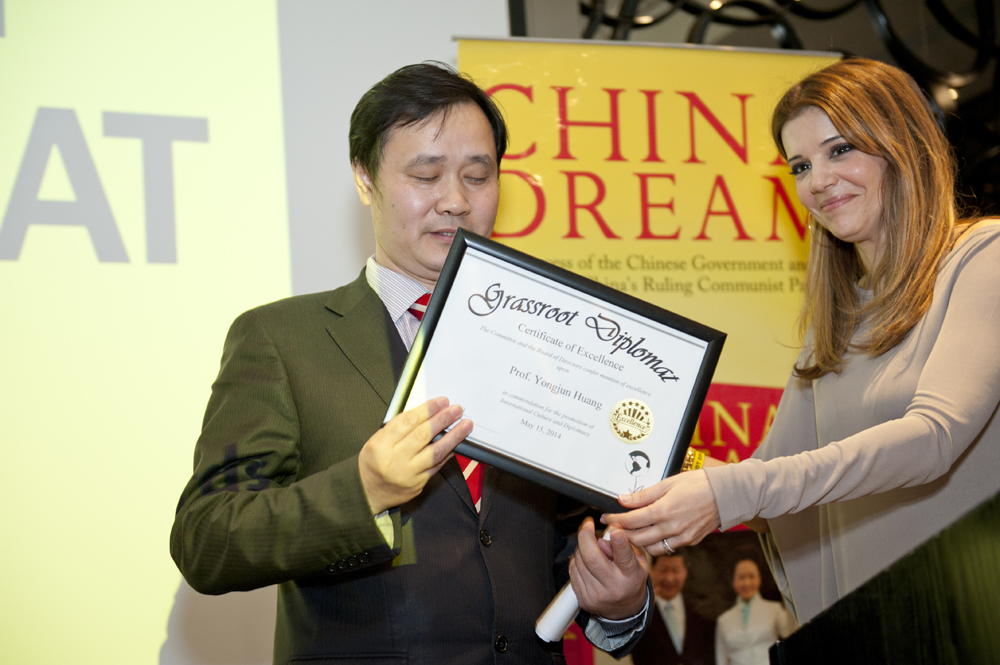 SPECIAL HONOUREE
2014
Professor Yongjun Huang, CEO of President Xi Jin-Pings Thought and Study Centre, was presented with the Grassroot Diplomat "Certificate of Excellence" on his work with the President of China and academic excellence in international culture and diplomacy.
As a special guest speaker, Professor Huang updated on the vision and future focus of President Xi Jinpings thoughts for governing China, and how to bring change for a better world. The Chinese market place is 10 times the size of the USA, inviting huge business and trading opportunities within this region of the world.